Davido and Wizkid have been at the top of their game and as well as the two standout performers in the Nigerian music industry for several years. Their prominence and uniqueness have seen them sign several lucrative deals with local and international brands. And the number keeps growing.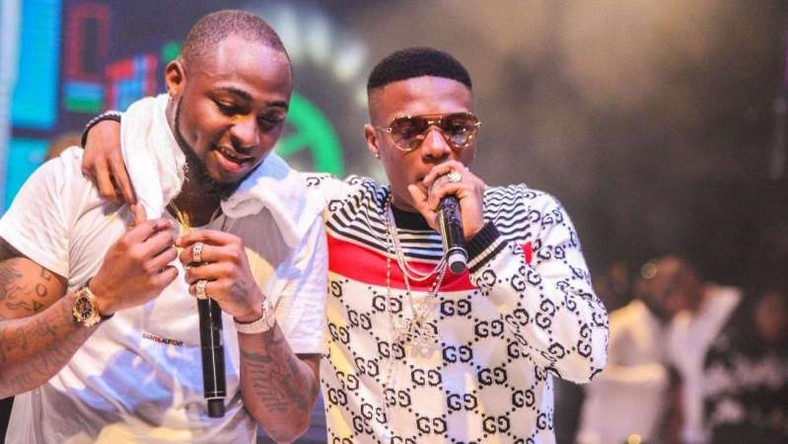 Even on social networks, both of them have been representing Nigeria well. Wizkid was the first Nigerian musician to cross 1m followers on Twitter. Davido, on the other hand, is Nigeria's most followed singer on all social platforms.
But we'll not be delving into social media popularity. We'll focus, instead, on whos is more wealthier
Both Wizkid and Davido continue to remain people of interests in the Nigerian society. Many fans keep asking us questions like:
Davido and Wizkid net worth (Forbes) in dollars and naira
Davido and Wizkid, who's richer?
Who has the a private jet or the costlier private jet between both?
What are their assets?
The above questions and a host of others.
Even funny questions like 'who has more baby mamas' have been asked.
Without further delay, let's compare…
Davido and Wizkid net worth
Davido has a net worth of ₦9 Billion, which has an equivalence of $25 million. Wizkid, on the other hand, has a net worth of ₦8 Billion ($22 million).
From the figures above Davido is obviously richer than Wizkid, albeit by a tiny fraction.
That being said, we'll have a look at something very important again.
How do they make their money and what are their assets?

The first and obvious way Davido and Wizkid make their money is through their songs.
Their hit songs, consistency and popularity have in return seen them attract investors, partners and promoters. So, everything is sort of a chain reaction in the music industry.
Wizkid is the owner of Starboy Records, a label he formed after quitting Banky Wellington's E.M.E records.
Daido also has a record label. He started, Davido Music Worldwide (DMW), few months after signing with Sony. Davido's record label boasts the signature of talented upcoming artistes, Dremo and Mayorkun.
Basically, their record labels are their glaring investments. However, they do have other investments, assets and luxurious cars and mansions.
Wizkid Properties:
Wizkid is said to own a mansion in Lekki worth roughly ₦70 million and an expensive house in Surulere. Linda Ikeji revealed that he also has a mansion in Los Angeles, California; of unknown price tag however.
In addition, he has the following cars in his collection
Bentley
Mercedes Benz 2012 Compressor
BMW X6
Hyundai Sonata
Porsche Panamera
Lamborghini Prime
Davido Properties:
Davido reportedly owns mansion in Lekki worth ₦140 million. He is also said to own a house in Atlanta, Georgia, USA, worth around.
As for cars, Davido loves to flaunt his luxurious wheels on Instagram. For a person that owns a fleet of some of the latest rides, that's never a bad idea.
Davido owns a Honda worth ₦4 Million, a Porsche that costs nearly ₦21 Million, the Range Rover that has the price of more than ₦20 Million. That's just some our of his numerous automobiles.
In addition to Davido's personally acquired properties and fame, he owns a private jet, which was reportedly gifted to him by his father, Deji Adeleke, who is a business mogul and one of the richest men in Nigeria.
Aside from their assets and properties, Davido and Wizkid have several lucrative endorsement deals that have a played a key role in their net worth.
With the analysis above, who do you think is more wealthier, Wizkid or Davido???