The Ransome's family were radical activist, His mother Funmilayo was an activist for women and fought against tax on women, representation of women in local government and she also participated in the struggle for Nigerian independence. Beko Ransome-Kuti fought as an opposition against military rule.
Fela live was a struggle against bad government in Nigeria, he was very outspoken against corrruption and openly criticized bad leaders. Corruption is still very rampant in Africa and Nigeria is one of the top corrupt countries. Fela spoke against it's government for rigging election, political instability, economic issues alongside social issues like poverty, inequality, unemployment  and many other problems. The singer didn't fail to create awareness about the bad system of government with his music especially in 1977 when he was at the peak of his activism.
Fela and mother dumped and de-Anglicized the family name from Ransome because it was a slave name from colonial master and changed it to Anikulapo which meant "He who carries death in his sack" it a Yoruba mythology which he interpreted to "I will be the master of my own destiny and will decide when it is time for death to take me"
The Anikulapo's fight against bad governance made him their enemy and the government did everything possible to bring them down. The government accused Fela of kidnapping women because of the large band of women around him during his music performance, many of the ladies were his dancers, composers, and singers.
To disprove this, Fela married all 27 of his dancing girls in a single traditional ceremony. The names of the ladies he married are Kikelomo Oseyni, Folake Oladejo, Tejumade Adebiyi, Naa Lamiley, Sewaa Kuti, Omotola Osaeti, Omowunmi Oyedele, Alake Anikulapo Kuti, Shade Shodeinde, Adeola Williams, Najite Kuti, Emaruagheru Osawe, Kevwe Oghomienor, Ihase Anikulapo, Adejonwo Iyabode Ogunitro, Bose Anikulapo Kuti, Lara Anikulapo Kuti, Suru Eriomola, Tokunbo Akran, Funmi Kuti, Omowunmi Afesumo, Laide Anikulapo Kuti, Ronke Edason, Damiregba Anikulapo Kuti, Aduni Idowu.
Fela was a terrible marijuana-smoker and he was seen performing on stage with a bikini underwear. He named himself "the chief priest,"of a community he created called "the Kalakuta Republic". It was named after the nickname of a prison cell he had once occupied, smoked marijuana, and recorded many albums that was banned on Government radio because of issues of copyright payments. The singer was always in and out of prison
Many of his wives left him while he was in prison except eight that stood by him. The singer could not protect himself as an opponent of the government who were in power. The Nigerian leadership only fell out of the hands of colonial masters into the hands of authoritarian military rulers.
Fela had a flair for politics and he always said that he would one day be president of the country, though he came forward as a presidential candidate for more than a decade, he was always turned down.
One historical moment in Anikulapo's life was in 1977 after he released one of his album titles "Zombie" which was a metaphor deescribing the behaviour of the Nigerian military. This made the government in power very furious and an attack was led on the Kalakuta republic.
On Feb 18, 1000 soldiers marched to the Kalakuta Republic which was a two-story yellow building and attacked the commune. Fela was severely beaten and many occupants of the house injured while the house was razed with fire.
Some of the severe loss was his studio, instruments, and master tapes which was destroyed. The singer said he would have been killed if not for the intervention of a commanding officer. His 77years old mother was thrown out of her building through the window which caused her a fatal injury. Fela was held under armed guard in a hospital room and his mother died the following year.
After he was released, Fela filed a lawsuit against the army that was later dismissed. After his mother's death, Fela delivered his mother's dead body in a coffin to the residence of General Olusegun Obasanjo's at the Dodan Barrack in Lagos. In respect to the incident, he wrote two songs "Coffin for Head of State" and "Unknown Soldier" after which the Head of state claimed the commune had been destroyed by an unknown soldier
Fela kept fighting against various governments as they came into power and recycled the same corruption. During a filmed documentary in 1982 shown in the United States on public television, Fela spoke about the criminal behavior of the Nigerian Government and said that "Nigeria is worse than South Africa, in Nigeria, blacks mistreat blacks."
In 1984, Fela was arrested at the Lagos airport when he was about travelling for his concert tour in the United States, he was charged with illegally exporting foreign currency, convicted and spent 18 months in prison.
Amnesty International labeled him a "prisoner of conscience" (individuals who are detained in various parts of the world solely for peacefully exercising their human rights). Charges against him was later closed.
Again in 1993, he was arrested and charged with conspiracy and murder of a technician who was part of his band, his body was said to be found close to his residence. Although, there was never an evidence that Fela witnessed the incident.
He was released on bond. The singer claimed it was one of the many harrasment to his family. According to his niece Morenike Ransome-Kuti, who is a lawyer, she said that "it is almost a way of life in our family and this is the price you have to pay when you're fighting for certain things."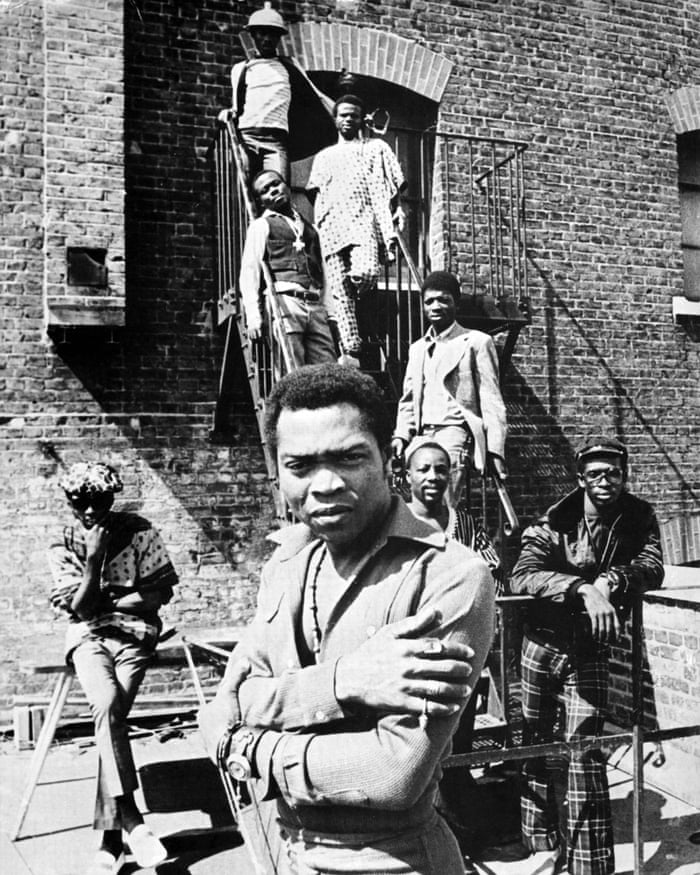 On 2nd August 1997, Fela died on Saturday at his home in Lagos at the age of 58, he was a great musician and activist. It was said that he died of heart failure, but he had suffered from AIDS, his older brother, Olikoye Ransome-Kuti, said at a news conference in Lagos.
At the height of his popularity, he was referred to as one of Africa's most "challenging and charismatic music performers". Kuti is one of the most influential music legend and socio-political voice in Nigeria. An annual festival is held every year to celebrate his life