One of the biggest name to ever grace the Nigerian music scene is Legendary musician, Fela Anikulapo Kuti popularly known as 'Abami Eda,' even after his demise, his music and style continues to inspire several Nigerian and International acts today including Wizkid, D'banj, 2Face and Drake.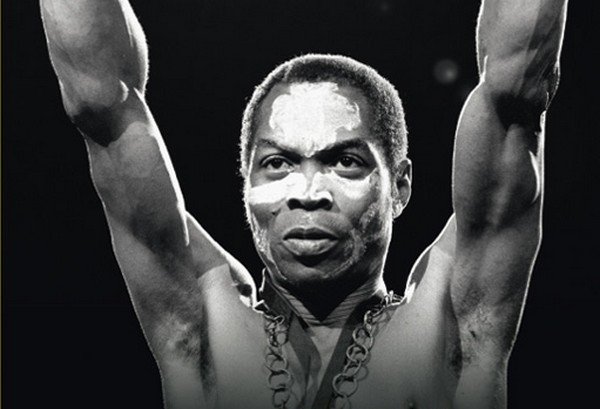 Fela Kuti is the pioneer of Afrobeat and he's also a talented instrumentalist, musician and composer.
Lets take a glance at some international acts who have sampled the work of the Afrobeat legend.
1. J. Cole– "Let Nas Down" (2013)
"Let Nas Down" is a songs from J. Cole's 2013 collection Born Sinner that takes after the Fela Kuti and The Afrika 70 track titled, "Gentleman."
The Fela Kuti impact on this track is vigorously felt, but doesn't yet boast enough confirmation to be authoritatively named as a sample. Did J. Cole utilize a direct rip from Fela Kuti and Afrika 70's track.
The Yoruba phrase 'Mi Gbo' is resonated all over track.
2. Drake (Please Forgive Me) Movie
One of the more prominent parts of the short film is when Fela Kuti's "Colonial Mentality" makes an appearance at the 13:20 mark. The track is off of his Sorrow, Tears and Blood collection, which was dished out in 1977 and was composed as a response to the Soweto Uprising of 1976.
Amid the uprising, a huge number of South African students challenged the constrained teaching of Afrikaans, the colonial language of Apartheid. The inauspicious sounds play as we get a gander at the villain's compound.
Drake, of course, isn't the only major artist today influenced by Fela, the late Nigerian saxophonist and vocalist behind the genre known as Afrobeat.
3. The Roots– "I Will Not Apologize" (2008)
"I Will Not Apologize" samples Fela Kuti's "Mr Grammarticalogylisationalism Is the Boss."
Fela's raw bassline assists The Legendary Roots Crew in just the right way, adding the perfect flavor to complete the track.
4. Nas ft. Alicia Keys– "Warrior Song" (2002)
Fela Kuti's presence is also felt in this inspirational song that uses some rhythms from his 1972 track titled "Na Poi."
In 2002, Nas who's rated among the greatest lyricist of all time, sampled Fela's song, "Na Poi" on "Warrior Song".
The rapper featured Alicia Keys on the track which was described as a "high energy collaboration".
"Warrior Song" appeared on God's Son, the critically acclaimed sixth studio album of Nas.
5. Missy Elliot ft. Timbaland– "Whatcha Gon' Do" (2001)
Fela Kuti & Afrika 70 provided the creative spark for "Whatcha Gon Do" off of Missy Elliot's 2001 album, Miss E …So Addictive.
This song samples Fela & Afrika 70's classic, "Colonial Mentality."
6. Obie Trice (Spend The Day)
American rapper and song-writer, Obie Trice, who attained international fame and success after being signed to Shady Records, has also benefited from the genius of the great Fela.
Trice borrowed material from Fela's "Sorrow Tears and Blood" to create "Spend the Day".
"Spend the Day" which featured Drey Skonie, was released in 2012.
7. Bilal
American singer-songwriter, is such a follower of Fela's music that he has sampled his music twice.
The revamp of one of Fela's best songs showed up on Bilal's "Love For Sale" collection.
"Sorrow Tears and Blood" featuring Common and Zap Mama took a touch of Fela from his 1981 song "Coffin for Head of State".
A video directed by Michael Sterling Eaton, was also shot for the song.
Bilal also collaborated with Dead Prez, Talib Kweli and Jorge Ben to record a remake of Fela's "Shuffering and Shmiling."